PILATES

WITH LISA
Discover your inner and outer strength with our brand new 6 Week Pilates Program.
Sculpt, sweat and flow it out on the mat as Certified Pilates Coach Lisa Nicolaisen guides you on a journey to building balance and strengthening your mind and body with at-home pilates workouts.
Join Now
ABOUT THE

PILATES PROGRAM

6 Weeks
Strengthen & Sculpt

Minimal Equipment
Meal Guides
By completing our Pilates Program you can expect to:
✓ Strengthen and sculpt your muscles.
✓ Improve your posture, flexibility, and stability.
✓ Master the fundamental movements of Pilates.
✓ Work smaller muscles to help prevent injuries.
✓ Create a healthy relationship with food and fitness.
Are you ready to strengthen your mind and body? Our 6 Week Pilates Program is perfect for you if:
✓ You want to strengthen and sculpt your body.
✓ You are a Pilates beginner and want to feel confident on and off the mat.
✓ You want to strengthen your mind-to-body connection and experience the transformative power of Pilates.
✓ You prefer minimal equipment, 45 minute workouts that can be done anywhere at any time.
✓ You are looking to supplement Pilates with other training styles to help prevent injuries and have you moving better in every aspect of your life.
Throughout the Pilates Program you will discover workouts between 30-45 minutes in length.
Throughout this 6-week Program you will experience a mix of:
Upper, Lower and Full Body Sculpt Sessions.
Full Body Sweat Workouts.
Core Sessions.
This Program includes two class styles: Body Sculpt and Body Sweat.
Body Sculpt concentrates on low-impact movements that target specific muscle groups, including those that you may not have known existed. By emphasising core strength, this class is intended to lengthen and sculpt your body, while also enhancing your flexibility, posture, and stability.
Body Sweat is a blend of Pilates and cardio that elevates your heart rate and makes you break a sweat. This high-energy class is designed to sculpt your body and leave you fueled with endorphins.
WHAT YOU'LL RECEIVE
BEGINNER FRIENDLY PILATES WORKOUTS
This structured training program is designed specifically to help you master the basics of Pilates. Choose from 6, 5 or 4 training days and receive access to easy to follow, guided 30-45 minute workouts.
meal guides tailored to you and your goals
Customisable Meal Guides designed to meet your unique nutritional needs and help you achieve your goals. Gain access to 1200+ recipes, giving you endless delicious options to keep your plate full!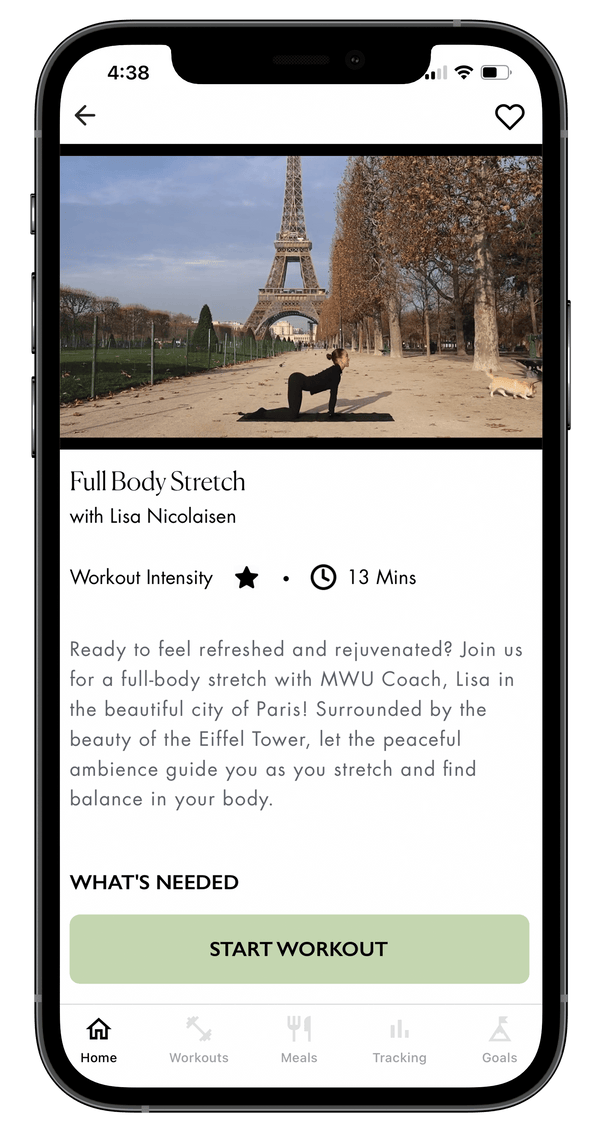 ON-DEMAND PILATES CLASSES
Plus enjoy access to our On-Demand workouts where you can follow along with Coach Lisa as she takes you through Pilates and Stretch classes - in real time. With new classes dropped monthly, you'll be in pilates heaven.
WHAT YOU CAN ACHEIVE

WITH MOVE WITH US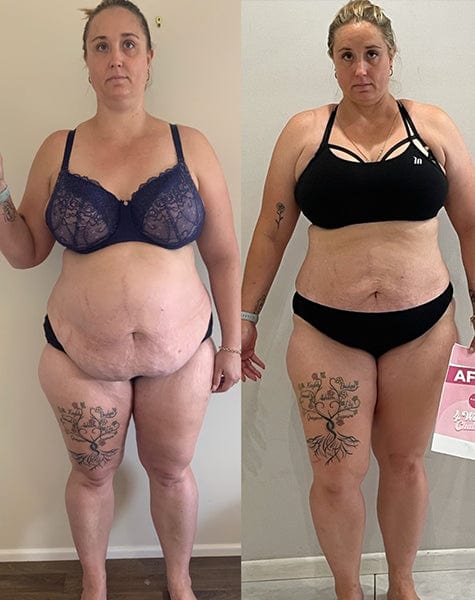 "This is just the start! It was hard to move at the beginning, but with determination, perseverance and a lot of tears, I made it through and did every single workout... I'm so proud of myself. The changes are extreme and I'm so excited for the next challenge. A total of 30.5cms and 8.4kgs."
- Lyndall (Fit Program)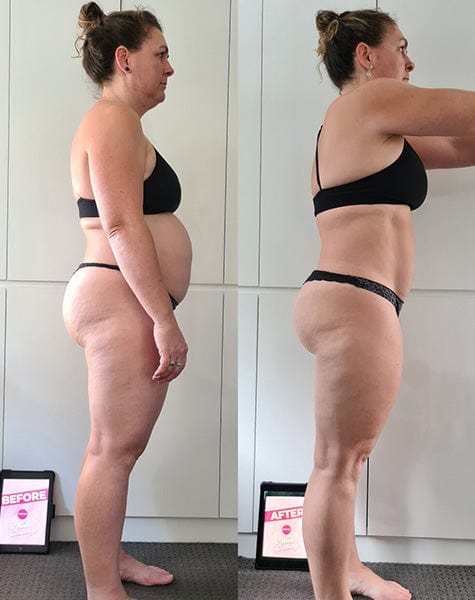 "I am so proud of this achievement! To see it in pictures, really highlights the hard work. I didn't think I'd made much of an impact, but these after photos show some movement in the right direction! Thank you! - 4 weeks of training, only missed 2 or 3 days. Feeling stronger, healthier and a little more confident in this body."
- Melinda (Fit Program)
"I have lost 12.5 kg's and 82cm's (including 19cm off my waist). I am stronger and fitter than I've ever been. And on a mental note so much happier!"
- Tamsin (Strong Program)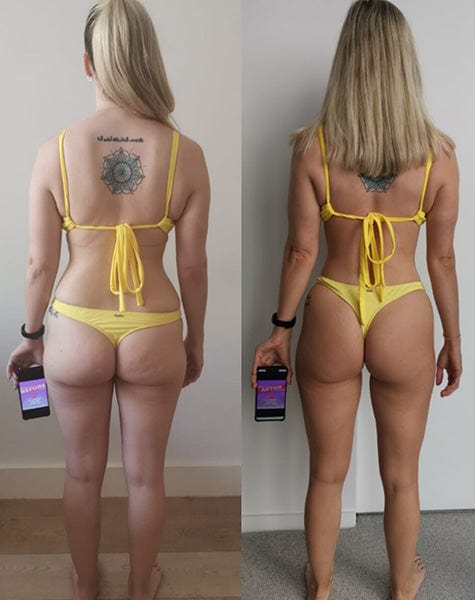 "This is the first time I've seen changes with my body. I have been to the gym for 5 years lifting weights and I have to be honest I was a little gutted knowing I would have to do this programme from home due to being in lockdown. But I've never been so toned!!! I'm so happy and been getting so many compliments! Also it's the most I've ever eaten I'm never hungry!"
- Liv (Strong Program)
"That was the quickest 6 weeks ever! I started the Busy Girl Workouts 8 weeks postpartum and overall I am just so proud of myself. This is the first exercise program that I haven't just given up after 1 or 2 weeks!

Down 6kg! Lost 11cm on my waist! My brand new jeans don't stay up anymore!"

- Brianna (Busy Girl Workouts)



Frequently Asked Questions
The first intake for our Pilates Program is on the 29th of May. Then Intakes commence 10am every Monday and as soon as you confirm your order, you will receive instructions on how to access our App and begin preparing for Day 1.
To complete the Pilates Program, you will need the following pieces of equipment:

- Yoga Mat
- Booty Band
- Pilates Ball (Lisa uses a 22cm ball)
- A Light Pair of Dumbbells

The best part about this Program is you can take these workouts anywhere with little-to-no equipment.
Once the first intake opens on the 29th of May, you'll receive app access right away just keep an eye out for an email from our team on how to get started in the MWU App.
Yes! You can use our 'Restart Program' feature allowing you to start the following Monday.
Enjoy 12 weeks of full app access. Alternatively, explore our Membership options for 12 months App Access.
Yes! You will have the option to choose from a 6, 5 or 4 day training split each week.
Yes! You can switch between home and gym workouts by toggling between the dumbbell and home icon in the workouts tab.
Yes, you certainly can! If you are not ready to purchase our Platinum Membership, you can join our Program separately. Keep in mind that you will only receive 12 weeks of App Access when purchasing separately.
Absolutely! With our Platinum Membership, you receive access to ALL available MWU Programs and Levels, as well as any Challenge that is released during your Membership.