Meal Prep: Pantry Edition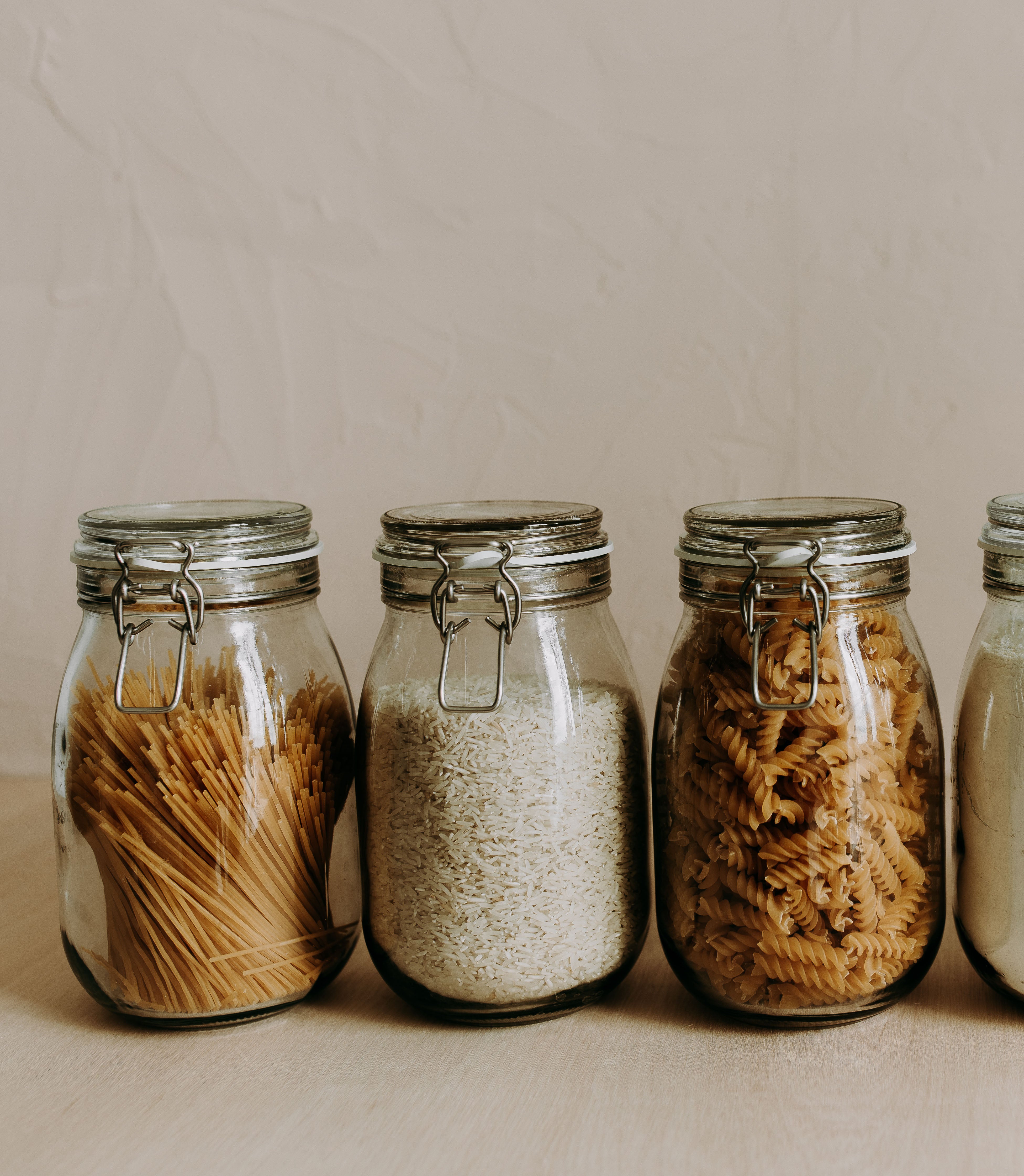 In light of the COVID-19 pandemic, many countries are facing a lack of food availability, being that from lockdowns or panic buying. We understand that when there's limited variety and next to no fresh produce on shelves, meal prepping and planning meals may be more challenging than usual.
It can be frustrating to adjust to the current situation and to be missing many of the familiar foods. How do you know what meals to create using non-perishable ingredients? How to shop when all fresh produce is gone?
Not to worry, the MWU Nutrition Team is here to help you figure out what staples you need during this time and what delicious meals you can create with those ingredients. 

Below you will find a list of nutritious food staples we recommend you have handy in your pantry.

Nutritious Food Staple
s

Canned
Fruit - opt for no added sugar/syrup options where possible
Vegetables – corn, tomatoes, peas, green beans, carrots
Lentils, legumes, beans
Fish – salmon, tuna, sardines
Shredded chicken
Pantry
Flour
Quinoa
Pasta 
Rice
Rice cakes
Stock or stock cubes
Nuts/seeds and nut butters
Spreads
Popcorn
Oats
Cereals
Muesli bars/protein bars
Oils
Long life milk 
Freezer
Vegetables

Fruit

Meats - can be frozen in bulk
Longer-lasting perishable items
Eggs

Butter

Cheese 

- can also be frozen

Onion - diced onion can be frozen

Potatoes

Breads/bagels/wraps - can also be frozen

Yogurts
Keep scrolling for some quick and easy recipes you can create using these food staples.
We have created a full day of eating with 3 main meals and 2 snacks for your convenience. Please note we didn't emphasise calories or macros, as these may vary depending on what's available to you. These simple, nutritious, cost-effective options are life savers for times when macro tracking is not a priority.

You can search for these delicious recipes in your MWU App and add to your Meal Guide to make them fit your nutrition targets. 

Don't forget you can use the Food Swap Tool to explore alternative ingredient options if you don't have some of these ingredients handy.
Note that these recipes and nutritional information are for single serve portions. Simply multiply the quantity of ingredients by the number of serves you wish to make.
Breakfast: Biscoff Overnight Oats & Protein Shake

Biscoff Oats Ingredients:

60g Rolled Oats

~ 200mL Unsweetened Plant-Based Milk

10g Biscoff Spread

½ teaspoon Ground Cinnamon

1-2 teaspoons Sugar Free Maple Syrups (optional)
Directions:
Combine all ingredients in a tupperware/container. Stir until Biscoff spread is evenly mixed throughout oats.

Close container and refrigerate overnight (or at least 1 hour). Serve cold. 
*Biscoff can be swapped for another spread such as almond or peanut butter.
Protein Shake Ingredients:
15-30g Whey or Plant-Based Protein Powder

50-80g Frozen Fruit of Choice

~250mL Water

Handful of Ice
Combine all ingredients in a blender and blend until smooth.
Snack 1: Roasted Chickpeas
Ingredients:
1 can Chickpeas (400g can)

2 teaspoons Olive Oil

1-2 teaspoons Lime Juice

1 teaspoon Chili Powder

Salt, to taste
Directions

:
Preheat oven to 190°C and line a baking sheet with baking paper. 

Drain and rinse chickpeas. Pat dry with a cloth.

In a medium-sized bowl, combine chickpeas with olive oil, chili powder, lime juice, and salt. Mix until chickpeas are evenly coated. Spread chickpeas evenly over baking sheet.

Bake for about 35 minutes, or until crisp and golden. Flip chickpeas half way through roasting.
*Store left-over roasted chickpeas in a container at room temperature for 3-4 days. These are stored best without being tightly covered (place lid on container but leave slightly open), so that they remain crisp.
Lunch: Tuna Pasta Bake



Ingredients

:
150g Protein Pasta (cooked)

90g Canned Tuna (unflavoured, in Springwater)

¼ medium White Onion

1 clove Garlic

60g Carrots

50g Mushrooms


100g Tomato Basil Pasta Sauce

40g Light Cream Cheese
20g Cheddar Cheese, Shredded 

Salt & Pepper, to taste
Directions:
Cook pasta as per packet instructions, undercook by roughly 3 minutes and drain excess water.

Prepare vegetables: mince garlic, dice onion, thinly slice carrot and slice mushrooms.

Heat a medium-sized pot over medium-high heat and apply a light spray of oil, if necessary. Once hot, add onion and garlic and sauté for 2-3 minutes, until softened. Add pasta sauce, tuna, carrot and mushrooms to pan. Cook for 6-8 minutes or until carrots have softened.

Take pasta sauce off heat and stir through light cheese. Once combined, add pasta and stir well.

Transfer pasta into oven-safe dish and sprinkle cheese on top. Bake pasta in oven for 10 minutes, or until cheese is melted.
*This meal can be stored in an air-tight container and kept in the fridge for 2-3 days.

Snack 2: Three Ingredient Cinnamon Oat Cookies



Ingredients:
80g Banana
35g Rolled Oats (raw)
15g Raisins or Sultanas 

1/4 teaspoon Ground Cinnamon
Directions:



Preheat oven to 180°C and line a baking sheet with parchment paper.

In a medium-sized bowl, mash banana using a fork. Add oats, sultanas and cinnamon to bowl and stir until combined.

Scoop mix into 3 evenly-sized portions and roll into balls. Place cookies on baking sheet and gently press down with your hand to flatten to desired thickness.

Bake for 12-15 minutes, or until golden and firm around the edges.
*Cookies can be stored in an air-tight container and kept in the fridge for 3-4 days.

Dinner: Butter Chickpeas

Ingredients:

150g Chickpeas (Canned)

140ml Coconut Milk (Light, Tinned)

20g Tomato Paste (No Salt)

120g Diced Tomatos (Canned)

8g Olive Oil

150g White Basmati Rice (Cooked)

1/4 White Onion 

1 clove Garlic

Flavour Boosters:

1/2 teaspoon Garam Masala

1/2 teaspoon Tumeric

1/2 teaspoon Curry Powder

1/2 teaspoon Chilli Powder

1/2 teaspoon Ground Ginger

Salt & Pepper, to taste
Directions

:
Prepare ingredients: dice onion and mince garlic. Drain and rinse chickpeas.

Heat a pan over medium-high heat and add oil. Once hot, add onion and garlic and sauté for 2-3 minutes, until softened.

Add tomato paste, garam masala, turmeric, curry powder, chilli powder and ginger and cook for 1 minute, stirring occasionally.

Pour in coconut milk and diced tomatoes and stir until combined. Season well, to taste. Bring sauce to a boil and add chickpeas. Reduce to a simmer and leave to cook for 12-15 minutes.

Cover curry and cook for another 20-30 minutes to deepen flavours. Water can be added, if required.

In the meantime, cook rice as per packet instructions.

Serve curry over rice.
*This meal can be stored in an airtight container and kept in the fridge for 3-4 days.


Meeting macronutrient requirements 
What can you do if you can't hit your macros perfectly, for example protein? Here are some tips and tricks to keep your nutrition on track.
Try adhering to your overall calorie goal, as this will keep your daily intake consistent. 


It's ok to manipulate your macro split to match the foods you have available.


For most of us, protein intake will be on the lower side than usual - and that's ok! We typically recommend consuming 1.6 - 2.2g of protein per kilogram of body weight - however you can certainly scale it back if needed, to a recommended minimum of 0.8 g/kg body weight. In this case, we recommend including a source of protein in every meal, where possible. This will help preserve muscle mass and promote satiety. 



Carbohydrates and fats are interchangeable within reasonable limits, meaning you can allocate calories to the either in your preferred way after protein intake is determined.
There you have it - some tips and tricks to keep you nutrition on track whilst keeping safe from the spread of COVID-19.

We hope this helps you with concerns about what to do if you can't hit your macros, what to buy, and what to cook. 
This is a difficult time that may be inconvenient for our goals, but we need to remember not to give up and prioritise our health first.

Keep moving however you can, stay safe, and fuel your body with nutritious foods.